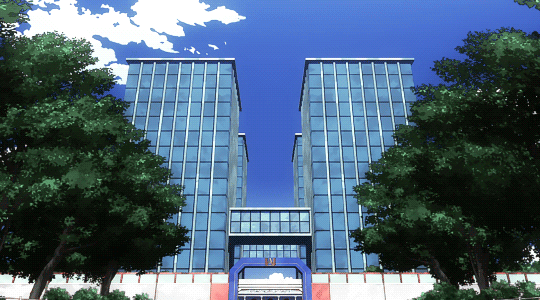 Homura had spent the entirety of the summer in a state of perpetual disbelief. He remembered not registering the acceptance letter to UA for what it actually was for at least a week after he got it, even after all of the other kids at the orphanage and Ms. Mayuri had nearly exploded in enthusiasm and joy. When they went shopping for school supplies, he was in a daze, and for the entirety of summer, the idea that he was going to attend high school at the top national-level hero school in the country, nay, the
world
, still seemed like a far off dream. Even up to the night before, Homura couldn't help but question whether all of this was real.
No, it was the morning of, the warmth of summer's end still lingering in the air, that the realization began to crawl up into his mind like a benevolent parasite. It was waking up early to make sure he had time to eat breakfast, buttoning up the shirt and cinching the tie around his neck, the feeling of the jacket around his shoulders, that slowly awoke his skeptical heart to the reality before him. It was as if he was slowly awakening from a hibernation, as his eyes became brighter and brighter, his chest tight with anticipation. What was actually a nearly hour-long train ride breezed by and with a mixture of explosive excitement and frozen trepidation, he took his first steps down from the train station and saw the iconic four pillars of the building. It was still far off, but his eyes hungrily sought the massive landmark with each step that he drew closer to it. And before he knew it, he was standing in the walkway, the now much closer compound looming over him. It was breathtaking. It was incredible. And it was real. He was here. Most children saw schools as prisons, but Homura, the word UA brought to his heart was a much different one:
Freedom.
He was very fortunate he had been motivated by Ms. Mayuri to arrive with plenty of time to spare. His unintentional appreciation of the school and its landscape could have easily made him late if he hadn't heeded her advice. Though he was still walking, it was clearly evident that he was mesmerized by everything he saw.
"There are... There are so many other kids here,"
he whispered to himself. He could only wonder if there might be others like him. He shook his head, trying to purge the thought. It was nonsensical, and it was dangerous, if the bullies from his previous school had taught him anything. Clearly, these kids all had parents at least, right? Still, hope remained. This wasn't that school. This was UA High School. This place
had
to be different.
They
had decided that
he
belonged here. Those other kids who had harassed him, those who hadn't made the cut... they didn't matter anymore. What mattered is that he had made it. He had endured all those things... and he was going to make sure to be a better hero because of them.
In his state of awe and grandeur, the young boy likely wasn't paying attention to what was in front of him as he should be. It wouldn't be impossible for him to accidentally bump into someone.