Points:
0
Fame/Infamy:
0
---
The Crow
Kyōhō, Sato
---
Bio Information
Picture: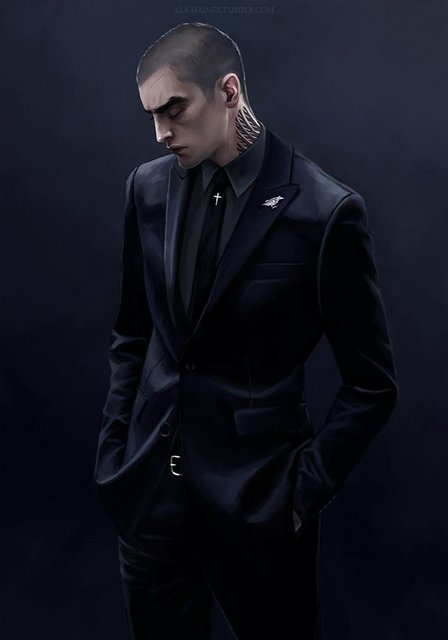 Age:
21
Gender:
Male
Physical Description:
Sato stands at 6'3" tall and weighing in at 215 lbs. Sporting an athletic framed body with muscular arms and shoulders. His black hair is usually only an outline on his head as the young man prefers to shave his head. Tattoos decorated the man's body in various places (see quirk description for more details). The man's face is slim with a rather strong looking angular jawline that defines his face with a sharp looking nose. Situated alot his sharp looking nose is a dry a dark brown eyes with thin, arched eyebrows.
Linear scars can be found on the man's hands and knuckles demonstrating his brawler/street side of life he grew up on. The man's skin tone is slightly paler than normal allowing for the details of his body art to really show against the light color canvas that is his skin. Due to growing up on the wrong side of the law a number of small scars from fights and working for some rather unsavory individuals can be found across his body under his nice suit.
Clothing:
Normally found in a dark colored three piece suit, custom fitted and designed, in return making it something most people couldn't afford. The pants and jacket normally raven while the undershirt and tie alternate with one another between black and red. A nice dark leather belt with a silver latch is worn with his slacks and a pair of high priced dress shoes decorate the man's feet.
Accessories:
A few items that can always be found on the man's person is a nice looking watch on his left wrist, a silver cross tie pin found on the upper portion of his tie, and a pin in the shape of a raven on his left lapel that represents his position in his line of work. Two things that can be found on the man at all times is his smart phone and cigarettes with a zippo lighter.
Personality:
If one was to use a single word to describe Sati is might be Machiavellism, one who is cunning and calculative. Decently intelligent and very aware of his surrounding and situations, one who likes to be the one in control of every situation that he can be. Primarily concerned with himself and his own personal advancements to the point that he will cooperate with anyone who will further his own ends. A seeker of fortune and fame with little concern for the people they trample along the way. Placing value in strength and ability alone.
---
Combat Information
Rank:
Felony Criminal (B)
Quirk:
Living Tattoos wrote: Type: Emission

The ability to being to life the user's tattoos. Allowing for them to protrude from the skin in the form of weapons or equipment. To the point at which the Tattoos can seperate from their owner's skin and grow in size while acting according to the owner's will. Destroyed Tattoos will break apart and return to the owner's skin slowly reforming over three posts, during which time they are not useable.

Quirk Stat

: Endurance

Current Tattoos

Chocking Hands - A pair of black and grey ink hands around the front of the man's neck.
Oriental Dragon - A color Sleeve tattoo on left arm of a oriental dragon
Shield - A Spartan style shield is black ink over his heart.
Skeletonal Arm - A black ink skeleton hand tattooed over the top his right hand with a skeletal arm extending up the right arn until it meets his Reaper tattoo.
Devil Wings - A pair of bat like wings that take up most of his back.
Snake - A dragon snake in the form of a color sleeve tattoo on the man's right leg.
Reaper - A large scythe welding grim reaper that covered three quarter of the right arm.
Stats (50/100)
Strength: 15
Speed: 15
Endurance: 10
Perception: 10
---
Support Equipment:
50 points.
Glock 21


A Semiautomatic .45 caliber pistol with a 6 round magazine. Stored in hip holster on his right side and a spare magazine in a quick draw pouch attached to his belt on his left hip.

Cost: 48
Combat Knife



A straight blade knife with a six inch blade and four inch handle. Worn horizontal across the man's back on his belt where its sheath is attached.

Cost: 3 points
Super Moves


None currently.